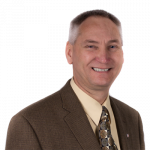 Hello.
My name is Bill Dunn. I am the McCracken County Property Valuation Administrator (PVA).
I was initially appointed to the office on October 8, 2018 after the previous PVA unexpectedly retired. I was elected to the office by the people of McCracken County during the 2018 general election.
I wanted to describe my background, education and my plans for our PVA.
I spent 6 years and 10 months in the US Navy. After my initial training as an electronics technician I served nearly four years on board the USS Oldendorf (DD-972). Before leaving the Navy I earned a Navy Achievement Medal for my work installing a new shipboard local area network (LAN).
I previously worked in real estate for 11 years as a Realtor. Besides working with private buyers and sellers I also worked for several asset management companies responsible for selling foreclosures. During my time as a Realtor I completed numerous broker price opinions (BPOs) and competitive market analysis (CMAs). These BPOs and CMAs are price valuations similar to PVA assessments.
I also worked at a local telecommunications company for over 22 years. I managed servers and routers and did web development. Many people know my work as the primary developer of a local classifieds website.
My education consists of a Masters Degree of Business Administration (MBA) from Murray State University (MSU). My undergraduate degree is also from MSU in business in which I earned magna cuum laude honor. I previously had a Cisco CCNA certification and I still hold two CompTIA certs (Network+ and Security+). I am a proud alumni of Leadership Paducah Class 26.
I am happily married with two grown children and one grandson.
Our PVA office primarily maintains real estate, vehicle and mobile home values. Real estate values consume the majority of our work. I plan to streamline the process we use to assess real estate. We need a much better, easier and faster process to assess properties. This will require modifications to how our staff completes the work and integration of better technology. I expect this will take the majority of the next four years to complete.